Oh what a party this Tuesday was at Emporia | Community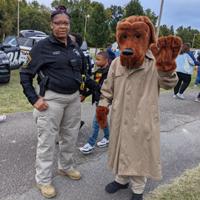 Hundreds of people filled the Emporia-Greensville Recreation Association park last Tuesday night as local police departments joined forces to host National Night Out – an event that aims to bridge the gap between law enforcement order and community.
Originally, the event was to take place at Veterans Memorial Park. However, as plans for the event developed, the decision was made to move it to the much larger EGRA facility. The more spacious environment proved useful with more than 600 children attending the national evening celebration.
As the name suggests, National Night Out is a truly national phenomenon, with law enforcement divisions across the country hosting similar events. However, unlike most countries, which have already held their national evening celebrations in August, local law enforcement has pushed back their celebration to October.
According to Emporia Police Chief Ricky Pinksaw, this was done to avoid the sweltering summer heat – a precaution that seemed to work, as Emporia's celebration took place on a cool, overcast evening.
Vendors at the event included Chuck-N-Barb and Hines Delights, while 99.5 FM's DJ Trans played music and served as emcee. Many prizes were raffled off, with the grand prize being a $100 prepaid card.
In addition to music performed by DJ Trans, guests were also treated to an appearance by the "G-Force" – the Greensville County High School Marching Band.
There were many games and activities for the children who participated, including a three-point shooting contest, a cornhole, face painting and a giant tic-tac-toe. Pinksaw offered free rides in its UTV (all-terrain utility vehicle), which proved particularly popular with children.
Of course, there was plenty for adults to do as well. Ed Conner and his wife Joanne distributed copies of the New Testament Bible on behalf of local Gideons.
"The Gideons have donated nearly three billion Bibles over the past hundred years," Conner said. "And here, locally, we've already donated several hundred this year."
Since October is Domestic Violence Awareness Month, Emporia's Domestic Violence and Sexual Assault Unit (FVSAU) set up a booth at the event. He has used his space to promote services available to victims of domestic and sexual assault, as well as to distribute mental health materials for children and adults.
"We have fact sheets on what parents can expect to research with their children when it comes to anxiety and depression, resources for resolving family conflict, as well as substance abuse prevention resources. "said Katie Turner, director of FVSAU's Child Advocacy Center.
Hannah Parker and the Greensville/Emporia 4-H Club set up a booth under the picnic pavilion at EGRA Park. There, the club handed out educational materials on nutrition and 4-H events while handing out free pink cotton candy sticks to everyone who passed by. Among the events announced was the upcoming 4-H "Basic Hunter Education Course".